Auto workshop manuals / Schemes / Spare parts

Professional schemes, workshop manuals, technical help all in one! This server feature includes most popular ONLINE workshop manuals like Autodata, All-data, Haynes PRO and many more other software. (All software has ONLINE access to latest updates for free!) When you purchase our license you will have full access to server.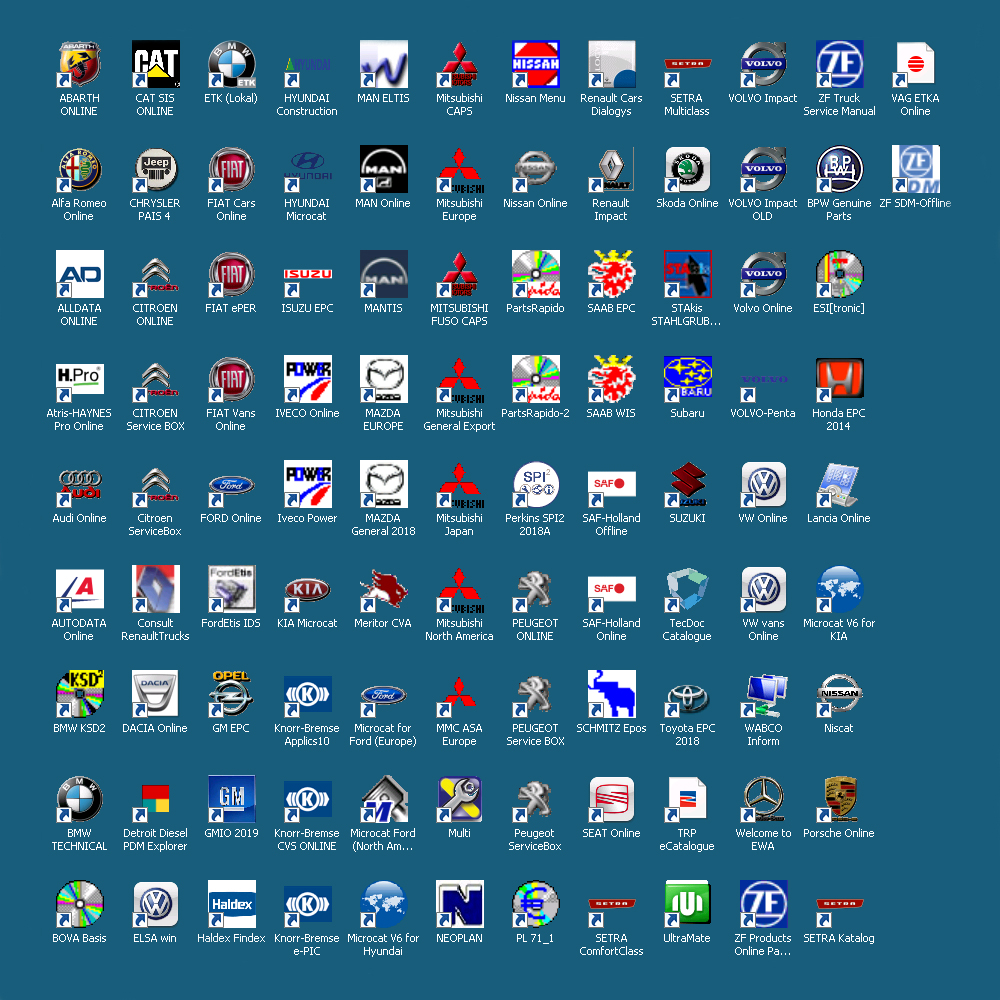 How to purchase license?
Call us: +37068307010 (Skambučiai, SMS, Whatsapp, Viber)
Email: [email protected]
Contact us
Latest server updates:
+ ElsaWin Online,
+ Porsche Online,
+ Mitchell Ondemand5 Online (Pasirinktinai kainuoja papildomai)
Software list:
– ABARTH Online,
– Alfa Romeo Online,
– ALLDATA Online,
– Atris-Haynes PRO Online,
– Audi Online,
– AUTODATA Online,
– BMW KSD2,
– BMW Technical,
– BMW ETK (Local),
– BOVA Basis,
– CAT SIS Online,
– Chrysler PAIS 4
– Citroen Online,
– Citroen Service BOX,
– Consult Renault Trucks,
– Dacia Online,
– Detroit Diesel PDM Explorer,
– ELSA WIN,
– FIAT Cars Online,
– FIAT ePER,
– FIAT Vans Online,
– Ford Online,
– FordEtis IDS,
– GM EPC,
– GMIO 2019,
– Haldex Findex,
– Hyundai Construction,
– Hyundai Microcat,
– ISUZU EPC,
– Iveco Online,
– Iveco Power,
– KIA Microcat,
– Knorr-Bremse applics10,
– Knorr-Bremse CVS Online,
– Knorr-Bremse-PIC,
– MAN ELTIS,
– MAN Online,
– MANTIS,
– Mazda EUROPE,
– Mazda General 2018,
– Meritor CVA,
– Microcat FORD (EUROPE),
– Microcat Ford (North America),
– Microcat V6 Hyundai,
– Microcat V6 KIA,
– Mitsubishi CAPS / Europe / FUSO / General Export / Japan / North America,
– MMC ASA Europe,
– Scania Multi,
– NEOPLAN,
– Nissan MENU,
– Nissan Online,
– Niscat,
– PartsRapido 1 & 2,
– Perkins SPI2 2018A,
– Peugeot Online,
– Peugeot Service BOX,
– PL 71_1,
– Porsche Online,
– Renault Cars Dialogys,
– Renault Impact,
– SAAB EPC / WIS,
– SAF-Holland Offline,
– SAF-Holland Online,
– Scmitz Epos,
– SEAT Online,
– Setra ComforClass,
– Setra Multiclass,
– Setra Katalog.
– Skoda Online,
– Stakis (Atris),
– Subaru,
– Suzuki,
– TecDoc Catalogue,
– Toyota EPC 2018,
– TRP eCatalogue,
– UltraMate,
– Volvo Impact,
– Volvo Online,
– Volvo-Penta,
– VW Online,
– VW Vans Online,
– Wabco inform,
– Welcome to EWA,
– ZF Online,
– ZF truck service manuals,
– ZF SDM Offline
– BPW Genuine parts,
– ESI [Tronic]
– Honda EPC 2014
– Lancia Online,
– VAG ETKA Online,